Fossil Dinosaur Bone (Two) Chunks In Bag - Jurassic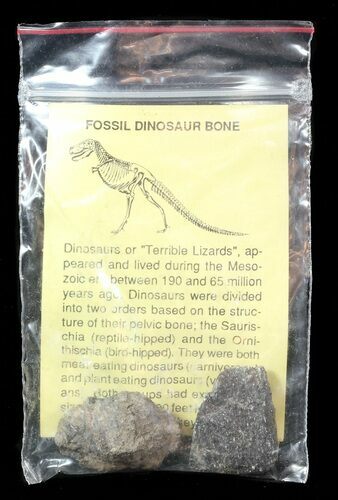 This is fragmentary, fossil dinosaur bone from the Morrison Formation of Colorado. Most of the bone has been agatized or replaced by silica, and you can easily see the preserved cell structure. The bone is Upper Jurassic in age, and could have come from one of many dinosaurs in the formation including Allosaurus, Diplodocus, Camarasaurus, Stegosaurus, etc.
There are two dinosaur bone pieces in a bag. Each specimen is approximately 1 inch across, some smaller some larger. The photos are representative of what the
fossils
looks like. These fossils are great for educational use or gifts for kids.
FORMATION
Morrison Formation
SIZE
Around 1" Inch across