This Specimen has been sold.
Wholesale Lot: Metasequoia (Dawn Redwood) Fossils - 50 Pieces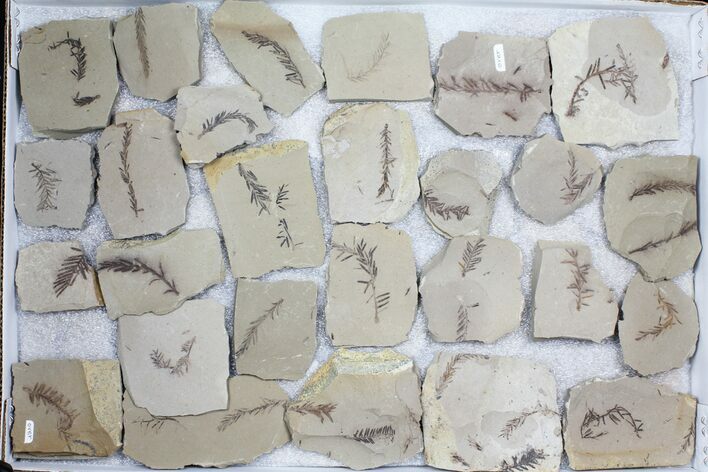 We just launched our new wholesale areas. Check out the
wholesale fossils, minerals & crystals
section for more listings. Very little of the wholesale inventory that we currently have in stock is listed on the website. If there is something specific you are looking for, or if you are looking to purchase different quantities, please contact us at
[email protected]
or
(866) 550-2013
This is a wholesale flat of
50 pieces
of shale with Metasequoia (Dawn Redwood)
fossils
from Montana. They are Oligocene in age and the dark preservation contrasts well against the light colored shale. The Metasequoia genus was considered extinct until a living population was discovered in China in 1941. This makes the dawn redwood a classic example of a living fossil.
Most of the shale pieces are between 2-3" wide. A few are larger, a few are smaller. Some of the pieces of shale have multiple fossils on them, but only count as one piece in the count. At the wholesale price, these specimens are $5/each
The photo of the flat only shows the first layer of fossils; there are more layers under the foam.
SPECIES
Metasequoia (Dawn Redwood)
AGE
Oligocene

LOCATION
Beaver Head County, Montana
FORMATION
Muddy Creek Formation
SIZE
50 pieces, Most pieces 2-3" wide