Wholesale Lot: Kidney Ore (Botryoidal Hematite) - 31 Pieces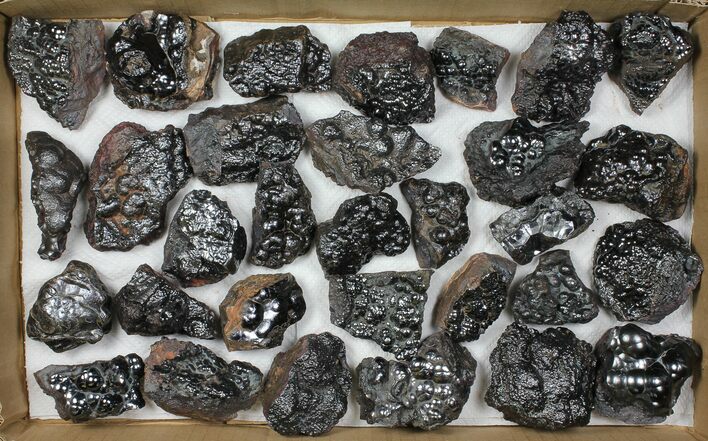 We just launched our new wholesale areas. Check out the
wholesale fossils, minerals & crystals
section for more listings. Very little of the wholesale inventory that we currently have in stock is listed on the website. If there is something specific you are looking for, or if you are looking to purchase different quantities, please contact us at
[email protected]
or
(866) 550-2013
This is a wholesale lot of
31
shiny metallic specimens of Kidney Ore (botryoidal hematite) from the Safi Province of Morocco.
At the wholesale price, each specimen is about $2.10 and they can easily sell for many times that. These are perfect for gifts, educational usage, or for resale.
Hematite is a mineral form of iron oxides and major iron ore. It is harder, but more brittle than pure iron and colors can range from black, to steel gray, to brown to red. There are many different forms of it and the botryoidal variety is commonly referred to as Kidney Ore.

The globular, bubbly shape of Kidney Ore is a result of layered growth around a nuclei such as a speck of sand or dust. As more material is deposited, the spheres grow larger and eventually overlap with those that are nearby. These nearby spheres are then fused together to form the botryoidal cluster.
LOCATION
Irhoud Mine, Safi Province, Morocco