Fantastic 2.71 Inch Deltadromeus Tooth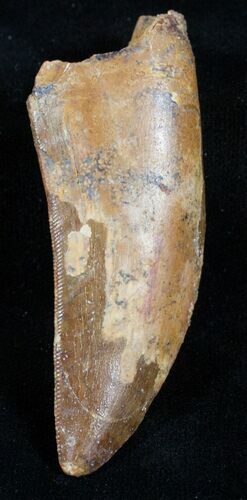 This is a big, thick, 2.71 inch long theropod tooth from the Cretaceous aged, Tegana Formation of Morocco. The reason I've labeled it as Deltadromeus agilis? with a question mark is this. Deltadromeus was described off of a small amount of material that did not include associated teeth. So it's impossible to assign isolated teeth to the species with 100% accuracy, until they are found associated with a skeleton.

That said, Deltadromeus is believed to be a Ceratosaur and the tooth has many of the hallmarks that would distinguish a Ceratosaur tooth from teeth of the other large theropod described from the Tegana Formation, Carcharodontosaurus. So, it would either be Deltadromeus agilis tooth or a yet to be described large theropod.

The tooth has good enamel preservation, most of the serrations are still visible and there are NO restoration or repairs. Overall it's a great tooth for the price.
SPECIES
Deltadromeus agilis?
LOCATION
Taouz, Kem Kem Basin, Morocco
FORMATION
Tegana Formation