Spectacular, 7.1" Turtle (Trionyx) Skull - Hell Creek Formation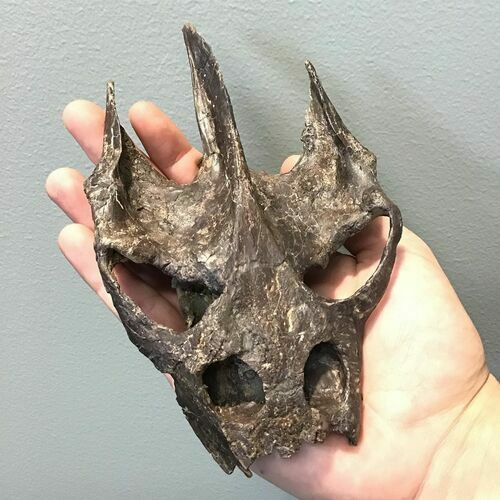 This is a spectacular, fossil Trionyx turtle skull from the Hell Creek Formation of South Dakota. It's in wonderful condition is displays very aesthetically on it's custom display stand. A portion of the eye socket and nostril area on the right side of the head has been restored.
Trionyx is a genus of softshell turned that first appears in the Jurassic and is still alive today.
Includes pictured stand.
Because of its age and sedimentary composition composition, the Hell Creek Formation has become one of the most paleontological studied areas in the world. 158 genera of animals and 64 genera of plants are known from the formation and new discoveries are made frequently. In addition to Tyrannosaurs, Ceratopsids, and hadrosaurs, the formation has yielded remains of amphibians, reptiles, including lizards, snakes and turtles, fish and sharks, avian and non-avian dinosaurs, and mammals. The Hell Creek Formation gives the most complete understanding of the environment just before the Cretaceous-Paleogene extinction.

FORMATION
Hell Creek Formation
SIZE
7.1" long, 4.3" wide